Reading Time:
3
minutes
Trust is a crucial part of effective marketing. And the best way to build this trust is by positioning your brand as dependable, relatable and most importantly, credible. Establishing credibility is perhaps one of the trickiest factors, but once achieved can lead to extensive growth.  Publicity is a great strategy for this. But how do you become a newsworthy brand? Below are four ways to use publicity to build brand reputation:
Develop Relationships With Reporters
Before you start sending out brand announcements, search for ways to develop relationships with reporters. Follow and share content from journalists who cover topics connected to your industry.  Ask questions about relatable news stories. You can even become a quotable source by joining sites such as HARO (Help A Reporter Out). Journalists use these sites to get quotes from experts for their stories. Being featured as an expert is a great way to build brand reputation while fostering relationships with reporters. It also builds SEO through a process known as backlinking (sites that include links to your site). Although the service is free, the number of help requests can be overwhelming, and it takes time to become a featured source.
Create An Impactful Press Release
To make sure your news stands out, you need a killer press release. There are four primary elements you need to consider when writing your press release: format, presentation, style, and pitch. Using the correct format for a press release alerts outlets that you understand best practices for the news industry. Here is an example of a correctly formatted press release: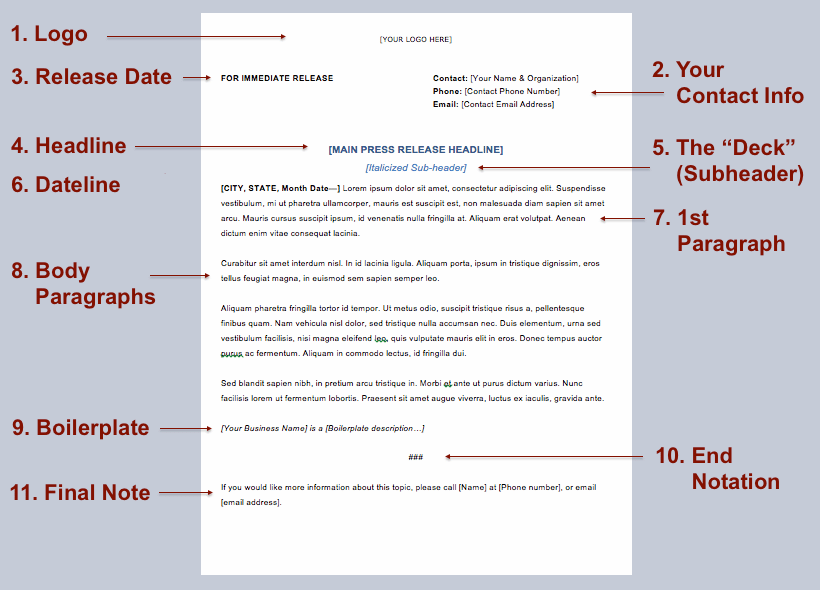 Once the format has been addressed, it is time to tackle the presentation. While a simple word document with text will do, your goal is to wow the media. Use links, standout text, and pictures whenever possible. Make sure everything matches the branding for your organization.
With style, it is important to understand the outlet you are sending the press release to and their audience. If you are sending it to a lifestyle magazine, tone and phrasing may be more playful than a daily newspaper. Showcase your brand's personality, but be aware of what most likely appeals to them.
Lastly is your pitch. The pitch gets reporters to actually read the darn thing. In your pitch, emphasize your story's relevancy and why it needs to be told now. The pitch also provides the opportunity to connect with the reporter. Customize it based on the recipient, praising past work and why you believe they are the reporter for the job.
Find Your News Angle
If you want a media outlet to cover your organization, finding your news angle is crucial. Start by researching trending topics both nationally and locally. Focus on subjects your selected outlets typically cover. Analyze coverage, reviewing everything from how interviews are conducted to the news angle for each story. For example, your ice cream business is launching a non-dairy product line. You could connect this directly to the publication's dietary series as well as the national conversation about food and health. This makes it easier for the reporter and proves you know what you are doing. If you are still unsure as to how to find your news angle, check out the American Press Institute for tips.
Seek Out Niche Outlets
While using publicity to build brand reputation is an excellent strategy, it is well-known strategy. According to the Bureau of Labor Statistics, there are about five PR specialists to every one journalist. This means you are competing against potentially hundreds of people for news coverage. Cut through the noise by selecting niche outlets. Find specialty blogs and podcasts featuring similar stories that reach your target audience. Not only is it easier to be publicized but you gain access to an engaged and dedicated following that you did not have to build yourself.
Another strategy to consider is to host an event. Events are automatically timely and proving relevancy is as simple as referring to your guest list. While press coverage is not the only way to boost credibility, it is free and easy to access. It is also repeatable, increasing your brand reputation with each story. Finding tactics you can easily duplicate is key to effective marketing. So become a newsworthy brand and watch your growth with skyrocket.
Need promotional products for your publicity event? Contact Choice Premiums at 478-741-8888 or request@choicepremiums.com.